Agency / company portfolio: Image Rent-A-Car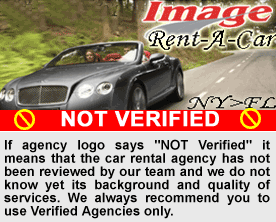 Having the necessity to drive or be driving in an exotic car rental in New York City and Now in South Florida Including Miami Florida, Fort Lauderdale and West Palm Beach Florida you ever felt the thrill of slipping in behind the wheel of a brand new Mercedes Benz S550 4Matic or a Bentley Flying Spur or gassing a shiny new Porsche Carrera Convertible, or a YELLOW Corvette Convertible on the Long Island expressway on your way to the Hamptons? or perhaps to Atlantic City in New Jersey? If you have grown accustomed to this feeling, you know that nothing else will do. And if you have never enjoyed the experience, there is no time to lose.
New York - NY
Connecticut - CT
New Jersey - NJ
Manhattan - NY
Hampton - NY
Fort Lauderdale - FL
West Palm Beach - FL
Miami Beach - FL
Miami - FL
South Beach - FL
Boca Raton - FL
Naples - FL
Boston - MA
Orlando - FL
Washington - DC
Image Rent A Car is well known and well liked by fellow New Yorkers and our visiting clients. This is evident in the satisfaction that all our customers maintain from the moment they reserve a car to the moment their rental agreement is terminated.

Our rental policies are extremely flexible, guaranteeing that all your needs are accounted for and met when you rent with Image Rent A Car. Whether it?s a cash deposit rental or a specialized insurance policy that you require, Image Rent A Car has a variety of rental policies that will help you create a totally customized rental experience. So when you come into our office, be sure to let us know how we can best accommodate your needs.

GPS Navigation DVD
Most vehicles equipped with GPS Navigation use a navigation DVD which we supply with the vehicle. If the vehicle is returned without the navigation DVD the renter will be charged for a replacement DVD. The price of the DVD is approximately $500. So please do not remove the DVD from the special DVD player. Thank you.

Drivers license check
You need to know that we reserve the right to electronically check the (first time) renters' drivers' license. The only information we are able to access is DMV information which is public knowledge. There is a slight charge for this procedure. Depending on the state, the charge can be $10-15.

Pet Hair, Dirt, and Odor
Our policy is clear and simple. No one wants to sit in a car that has pet hair or odor in it. So please do not carry dogs or cats in the vehicle. If you must, they cover the area where your pet is going to be. If the vehicle comes back with pet dirt or odor, You WILL be charged an additional charge for cleaning and deodorizing the vehicle. The charge is a minimum of $50. Please be considerate. Thank You

Unlimited Miles
When applies. Unlimited mileage only applies on driving in the tri-state area. and not to exceed 300 Mile Radius.or leave the NY NJ CT states.
Unlimited mileage is only offered to traveller to the airport and is not offered to the local renters. A Valid airline ticket or boarding pass is required to receive unlimited mileage with the rates.

HOLIDAY RATES MINIMUM CHARGES
DURING A 2, 3, OR 4 DAY HOLIDAY PERIOD, UNLESS WE SPECIFICALLY WRITE OTHERWISE ON YOUR CONTRACT, THE RATE QUOTED TO YOU WILL NOT CHANGE IF YOU DECIDE TO RETURN THE VEHICLE PRIOR TO THE DATE/TIME PRINTED ON YOUR CONTRACT. FOR EXAMPLE: IF YOU RENT A VEHICLE DURING THE THANKSGIVING 4 DAY HOLIDAY PERIOD, YOUR RENTAL CHARGE WILL BE THE SAME IF YOU KEPT THE VEHICLE FOR 1, 2, 3, OR 4 DAYS. HOLIDAY PERIOD INCLUDE LABOR DAY, MEMORIAL DAY, THANKSGIVING, 4TH OF JULY, CHRISTMAS, ETC.

Holiday Period Additional Charge Applies
During holiday periods discounts and coupon specials DO NOT apply. Holiday rates might be higher than Internet prices and are NOT DISCOUNTABLE, and rates of vans might be higher than posted on the Internet. If your reservation is made within 4 weeks of a national holiday the posted internet price is not guaranteed, please call to confirm prices. During certain holiday periods such as Memorial Day, 4th of July, Thanksgiving, Labor Day, Christmas and possibly other holidays, the minimum rental is 4 days. This means that if the vehicle is returned before the 4th day, the charge will still be the full holiday 4 day charge. Due to the many reservation requests during a holiday time, in order to confirm and hold your reservation, you must call in and give a deposit towards your rental. Without a deposit we cannot guarantee the reservation. For further information please call our office. Also, please note that during holiday periods, there is NO unlimited miles program. The rate that we will quote you will include 700 miles( some cars 1000). Any miles driven over the allowed 700 miles during the holiday period will be subject to a charge of $.40/mile. If you know that you will need additional miles, please advise us as soon as possible and the management might be able to create a special program for your needs. Thank you.

Unauthorized Repairs
"We Maintain a Service Contract with Firestone Nationwide and repairs will be authorize with prior approval from our office." NO repairs of any kind, no matter how large or small may be done to the rental vehicle without written approval of the management. If a repair is done without approval, the renter will be fully responsible for any and all additional repair work that might be needed in order to properly repair the rental vehicle and to brig it back to its pre-rental condition.

Rental Extension Rates

Deposits for Luxury Cars & 15 Pass Vans

Age Requirements
Minimum Age: 18
Age 18 to 21 - $350.00 per day surcharge applies.
Age 22 to 22 - $170 per day surcharge applies.
Age 23 to 23 - $1250 per day surcharge applies.
Age 24 to 24 - $80 per day surcharge applies.
Age 25 to 25 - No Surcharge applies.

Additional Drivers
2 additional drivers permitted
A surcharge of $ 7.00 applies per day (per additional driver)
Minimum Age for Additional Drivers: 25
Must have a US Valid license for more then 2 Years and stable driving history.

Driving Area Restrictions
You CANNOT take vehicle outside following states: NY, NJ, CT without a writing permission from us. Should you drive outside a 350-mile radius without prior written authorization you will be charged .25 (or up to 0.75 per mile) cents per mile after 150 free per day and 100 miles on van and luxury cars starting from the beginning of the rental period and in violation of contract(even if you bought the unlimited mileage package).(.75 & Up on The Luxury & exotic cars)above the provided free mileage per day. UNLESS we authorize you in writing.

Deposit Requirements
Call for details for the Cash Deposit
1000.00 + Prepay the rental, NY License for over 2 Years and current Bank Statement.
The following are accepted for deposit:
Debit Card, VISA, Master Card, AMEX, Discover, Direct Bill (with special approval only)


Payment Methods
Image Rent-A-Car accepts the following methods of payment:
Cash, Debit Card, Company Account, VISA, Master Card, AMEX, Discover, Direct Bill (with special approval only)

Pick-ups and Drop-offs
No charge pick-ups and drop-offs within radius of 2 miles

Insurance Policies and Surcharges
Damage Waiver is for our vehicle and it reduces your responsibility from the full amount of the vehicle + expenses to first one thousand dollars only.
The Damage Waiver for the exotic & luxury class is $79.00 a day and reduces your responsibility from the full value of the car to the 1st $5000.00 only. Most cars in this class codes are msrp of $50,000 and more.
Your Free mileage starts from our location back to our location, and not included in the delivery rate. Rate is Per direction.

Liability Insurance
$ 90.65 per week
$ 12.95 per day

We Offer Supplemental Liability Insurance Policy To protect the passengers in your vehicle above the state minimum coverage requirement and Up to $1 Million Dollar In Combined Covrage.

Damage Waiver
$ 63.00 per week
$ 9.00 per day

In addition we offer Damage Waiver to protect and reduce your responsibility in case of damages to our vehicle and limit your exposure to only 1st $1000
Damage Waiver-SUV-GV-PRE
$ 111.65 per week
$ 15.95 per day

Damage Waiver Luxury
$ 553.00 per week
$ 79.00 per day

The Damage Waiver for this class code reduces your responsibility from the full value of the car to the 1st $5000.00 only. Most cars in this class codes are msrp of $50,000 and more.
Under 22
$ 1400.00 per week
$ 200.00 per day

Renters who are the age of 21-22 must have the license for a minimum of 2 years prior to renting from us
Under 23
$ 700.00 per week
$ 100.00 per day

Applies to renters of the age 22 and have a valid license for more than 2 years
Under 24
$ 700.00 per week
$ 100.00 per day

Applies to renters of the age 23 and have a valid license for more than 2 years.
Under 25
$ 350.00 per week
$ 50.00 per day

Applies to renters of the age 24 and have a valid license for more than 2 years.
Supplement Liability Coverage
$ 245.00 per week
$ 35.00 per day

We Offer Supplemental Liability Insurance Policy To protect the passengers in your vehicle above the state minimum coverage requirement and Up to $1 Million Dollar In Combined Covrage.

Moving Vans & Trucks Waiver
$ 181.93 per week
$ 25.99 per day

Once you accept the CDW your responsibility will be the first $1000.00 + expenses
Conversion Luxury Vans
$ 209.93 per week
$ 29.99 per day

Reduces Your Liability for damages to the Luxury Van to the first $2500.00 only, Not Covering Glass-Tires-Overhaed & Undercarrige Damages
12-15 Pass Sli
$ 140.00 per week
$ 20.00 per day

Supploment Liability Coverage For 12- And 15 Passenger Vans
Under 21
$ 2450.00 per week
$ 350.00 per day
$ 350.00 per hour

$350.00 a day Surcharge Applies, and can only Rent Compact to Small car.
Philadelphia Delivery
$ 250.00 fixed

Your Free mileage starts from our location back to our location, and not included in the delivery rate. Rate is Per each direction.
Washington Dc
$ 350.00 fixed

Your Free mileage starts from our location back to our location, and not included in the delivery rate. Rate is Per each direction.
Manhattan-Brooklyn-Nyc
$ 25.00 fixed

Your Free mileage starts from our location back to our location, and not included in the delivery rate. Rate is Per each direction.
NYC- Area Airports
$ 75.00 fixed

Your Free mileage starts from our location back to our location, and not included in the delivery rate. Rate is Per each direction.
New Jersey
$ 125.00 fixed

Your Free mileage starts from our location back to our location, and not included in the delivery rate. Rate is Per each direction.---New Jersey up to 50 miles from NYC
Chauffeuring Wedriveu.com When you really want to be pampered, We Drive U provides chauffeur service in New York, San Francisco, Los Angeles, and London. Sometimes it's nice to let someone else do the driving!

Cdw 12-15 Passenger Vans
$ 140.00 per week
$ 20.00 per day

Damage Waiver that reduces your responsibility to the 1st 1000.00 only.
GPS-Rental
$ 70.00 per week
$ 10.00 per day

Navigation System Or Disc TomTom One GPS
Car Seat Rentals
$ 35.00 per week
$ 5.00 per day

Car Seat Rental
Vehicle License Recovery Fee
$ 2.73 per week
$ 0.39 per day

Damage Waiver Fl
$ 125.65 per week
$ 17.95 per day

Airport Access Fee
$ 27.02 per week
$ 3.86 per day

AIRPORT ACCESS FEE